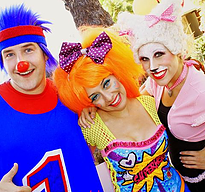 SAMO'S KIDS CLUB
September 7, 2016
Free, fun & educational games and activities for kids!

Samo's Kids Club regular programming takes place the first Wednesday of every month at 11:00 a.m. in the Food Court (level 3), rain or shine.
We're so happy to bring your family fun events every month! Parents, you will be asked to register your child upon check-in.
Meet our Hostess, Ann
Ms. Ann will have a dance party with a bubble machine and a hand stamp after the party! Reserve your energy because it's going to be one energetic and fun time with Ann!
Music With Twinkle Time
The most colorful and fun rocker around! Join us for some high energy and infectious family music that will get everyone up and moving! Twinkles is a superstar on the rise and we are very excited to have her visit us!
MEET OUR PARTNERS:
Mattel Children's Hospital UCLA – Mattel Children's Hospital UCLA is proud to sponsor SaMo's Clubhouse located on the dining deck of Santa Monica Place adjacent to the food court. The unique play-and-learn area includes a life-size whale climbing structure that allows children a stimulating place to explore. UCLA Health System educational health tips for parents are displayed near the clubhouse.

SAMO, a full-size humpback whale is made of steel, wood decking, rope netting and "found objects". Samo combines climbing elements, a balance beam, an inclined tight rope, a slide, and lots of interactive areas including talk tubes, telescope, periscope, and other activities for kids to explore.
To view more photos of Samo's Clubhouse, click here. For more information about Mattel Children's Hospital UCLA, click HERE.