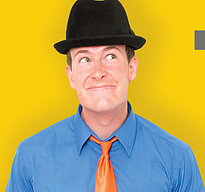 SAMO'S KIDS CLUB
November 2, 2016 11:00 AM - 12:00 PM
Free, fun & educational games and activities for kids!

Samo's Kids Club regular programming takes place the first Wednesday of every month at 11:00 a.m. in the Food Court (level 3), rain or shine.
We're so happy to bring your family fun events every month! Parents, you will be asked to register your child upon check-in.
MEET TWINKLE, OUR HOST
Introducing Alitzah (Ali), a former of all girl band "Nobody's Angel" once signed to Hollywood Records who opened up for Britney Spears and Backstreet Boys and who earned a gold record for two of their songs on the "Princess Diaries" soundtrack will be hosting this month.
JUGGLING WITH FANTASTICK PATRICK!
It's a Cirque du Soleil-level juggling and tricks, plus buckle-blasting humor, unicycle riding, and balloon magic and more. Patrick has performed for The Tonight Show with Conan O'Brien, Hell's Kitchen on FOX, The MTV Movie Awards, 6 Degrees of Everything "FX", The Maya Rudolph show, and has performed live for Oprah, Pharrell, Ellen & Slash. You will absolutely love his performance! Its guaranteed fun for the young and the old!
MEET OUR PARTNERS:
Mattel Children's Hospital UCLA – Mattel Children's Hospital UCLA is proud to sponsor SaMo's Clubhouse located on the dining deck of Santa Monica Place adjacent to the food court. The unique play-and-learn area includes a life-size whale climbing structure that allows children a stimulating place to explore. UCLA Health System educational health tips for parents are displayed near the clubhouse.

SAMO, a full-size humpback whale is made of steel, wood decking, rope netting and "found objects". Samo combines climbing elements, a balance beam, an inclined tight rope, a slide, and lots of interactive areas including talk tubes, telescope, periscope, and other activities for kids to explore.
To view more photos of Samo's Clubhouse, click here. For more information about Mattel Children's Hospital UCLA, click HERE.